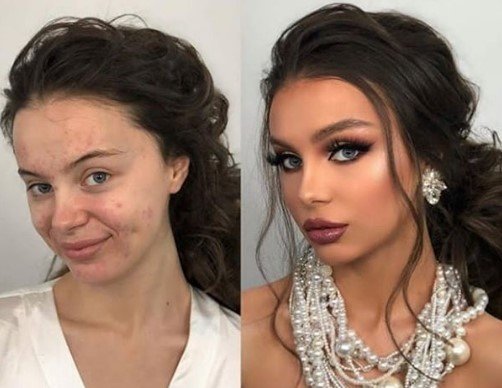 Każda Panna Młoda pragnie w dniu swojego ślubu wyglądać perfekcyjnie. Ważną rolę w całości wizerunku odgrywa make-up. Ma podkreślać kobiece piękno i tuszować ewentualne mankamenty. Na Instagramie szukałyśmy najbardziej spektakularnych metamorfoz i oto efekty: przed Wami Panny Młode przed i po makijażu ślubnym!
Ekspert Wedding.pl radzi:
Aby w dniu ślubu zaprezentować perfekcyjny makijaż, wykonaj następujące kroki:
1. Poznaj trendy w makijażu ślubnym na 2020 rok.
2. Sprawdź, jak dobrać makijaż ślubny do swojego typu urody.
3. Sprawdź odpowiedzi na pytania, które Panny Młode najczęściej zadają makijażystom.
4. Poznaj i unikaj najczęściej popełnianych błędów w makijażu ślubnym.
5. Poznaj najlepszych makijażystów ślubnych w swojej okolicy.
6. Wyślij wirtualne zlecenie na makijaż ślubny, aby zgłosili się do Ciebie najlepsi wizażyści w Twojej okolicy.
7. Umów się na próbny makijaż ślubny, aby sprawdzić, czy metamorfoza spełnia Twoje oczekiwania.
Naturalność również w dniu ślubu? Więcej inspiracji na subtelny makijaż ślubny w artykule o make-up no make-up.
A może makijaż z focusem na rzęsy? Sprawdź, czy sztuczne rzęsy na ślubie to hit czy kit!
Róż? Mnóstwo inspiracji znajdziesz w naszym albumie makijaży w kolorze różowym!
Kochamy podkreślone brwi, a Wy? Odpowiednio wyeksponowane potrafią być remedium na opadającą powiekę!
Aby perfekcyjny makijaż przetrwał całą noc, sprawdź, jak przedłużyć trwałość ślubnego make-upu!
Makijaże ślubne dla blondynek o jasnej cerze powinny być lekkie i świeże.
Przyznaj, że ta metamorfoza to totalny efekt "wow"! Jeżeli również szukasz make-upów podkreślających oczy, sprawdź jak dobrać wizaż do koloru tęczówki!
Klasyczny makijaż Panny Młodej to zawsze dobry pomysł. Zobacz inne propozycje na delikatny make-up ślubny!
Czy Wasz typ to makijaż w brązach?
Czy to jest idealny makijaż ślubny?
Piękne rzęsy na ślubie? Dzięki naszym poradom masz to jak w banku!
A może makijaż ślubny z kreskami? Zobacz, jakie cuda można zdziałać eyelinerem!
Makijaż ślubny a kolor włosów? To również ma znaczenie w doborze wizażu!
Złoto w akcentach to zawsze strzał w dziesiątkę! Zainspiruj się makijażami w złocie!
Czerwień na ustach to odważny akcent, ale niezwykle zmysłowy! Odkryj więcej makijaży z czerwonymi ustami!
Fioletowy makijaż ślubny to oryginalna propozycja. Polecamy ją zwłaszcza na jesienne i letnie ceremonie!
Co powiesz na szarości? Rozmyty szary makijaż oczu doda spojrzeniu głębi!
Smoky eyes to idealna propozycja na wieczór. W ślubnym wydaniu może prezentować się naprawdę elegancko!
Która metamorfoza zrobiła na Was największa wrażenie, a którą zaliczacie do najmniej udanych?